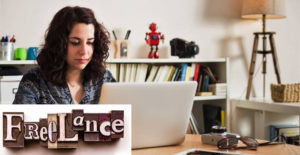 We all want to become a billionaire through owning our own businesses. We envision a life of financial independence, world travel, and the freedom to live our life any way we deem fit. Very few of us actually put effort and courage into building our own business.
Money is the main factor that stops our business dreams, but raising money to start your small business is not as hard as you think. Of course, we advocate getting funding through venture capitalist, but we also have a simpler solution: start a side business. This extra income really help you get your business off the ground, as you wait to hear back from investors.
Need side business suggestions? Then use our list below for job inspiration.
Become an Uber Driver
The number of rideshare jobs, like being an Uber or Lyft driver, are rising steadily. The amount you make driving for Uber depends on a number of factors, which is why some drivers only make minimum wage and others make over $200,000 a year. A key component of being a successful Uber driver is to know your market. Therefore, research the popular times and places to offer your service. Be flexible, so you can find the best way to capitalize on your car and free time.
Start Your Own Delivery Service
Place an ad, in a local online or print news site, that  promotes your services. Set the range of your delivery location. Also set boundaries on what you will deliver and for how much. Create a website, rate sheet, business cards, and fliers.
This job works even for those who do not own their own car, because you can rent a car through Zipcar and still make daily deliveries. Save on Zipcar services by using their Groupon discount codes before booking a vehicle.
Take on Freelance Work
Seek out clients through social media marketing, networking, and direct email marketing. Freelancing helps you master your skill and build a clientele that can become repeat customers once you launch your business.
Sell Things
Develop a product, or search through your home for old items to sell. Next, create an account and open a store on Etsy, Amazon, or eBay. Market and promote your store on social media forums, and blogs.
Rent out Home
If you have a nice apartment or house, or even if it's just in a prime location, use sites like AirBnb and HomeAway to list your property. Be a gracious host, give the renter their space, and keep your place in good condition to earn favorable reviews and repeat customers.
Apply for Temp Work
Signup at a niche temp agency to find temporary but steady work. Be proactive by calling your temp agent every time you're free and need work. The more you keep in contact with your worker, the better your chances are to find consist temporary gigs.
Tutor Someone
Apply to popular tutoring websites to capitalize on your education and knowledge. Additionally, consider just advertising your tutoring service at libraries, your own websites, community bulletin boards, park district areas, and on local city websites.
Become a Transcriber
If you're a fast typist, make a lot of money by becoming a transcriber. It won't be the most exciting job; it will be very tedious, but transcribing work is consistent and available through agencies or through networking.
Build Websites
It is no longer cool to go off the grid, now everyone these days need a website to survive in the ever evolving world of modern business. Help companies thrive by building their website. If you have no design skills, offer to provide content, through blogging, social media, or working on the sales and customer service part of their site.